In November 2018, the four-star Royal Emeraude hotel in Dinard was bought by Gérard Jicquel, a co-founder of the company Samsic, who was looking to branch out into a new business. This marked the start of the all-new Beautiful Life group which has recently bought several other hotels. Marc Scognamiglio has been managing the hotel since January 2019. Faced with the COVID-19 epidemic, the hotel closed for two months. It will re-open on 20 May with a specially adapted on-site restaurant offering, associated with wines from the D-Vine range. Thanks to this solution, they will be able to welcome guests in the best possible conditions. At this unprecedented time, we bring you a portrait of Marc Scognamiglio.
How have you managed this Unprecedented situation?
The hotel unfortunately had to close for two months due to lockdown. We took this decision as there was nothing to attract people to Dinard. Theoretically, we could have had guests to stay, but there was nowhere open for them to eat in the area. The whole team was put on partial unemployment. We took advantage of the situation to prepare for re-opening as best as possible. I personally would come to the hotel every morning to deal with administrative matters. We have finally decided to re-open to guests again from Thursday 20 May. We have the necessary sanitary measures in place. Plus, an on-site restaurant offering associated with our D-Vine wines will be available so as to provide guests with a full service.
[…] it will probably involve room service, to offer additional services and keep interactions to a minimum. The D-Vine will be a major asset for re-opening!
What is your career background? Tell us about yourself briefly.
I have an 'unusual' profile for the hotel industry as I didn't start out in this field. After training in tourism sales, I started my career working for American Express. I then worked for a subsidiary of the Accor group, Carlson Wagon Lits, then as sales director for the Lucien Barrière group. Next, I joined Accor's luxury division where I was involved in creating and became manager of the Cures Marines hotel and spa in Trouville. On 7 February, I joined Gérard Jicquel's Beautiful Life group to become manager of the Royal Emeraude. There are many similarities between Dinard and Trouville. I was used to coming to this area regularly on a personal basis. So when the opportunity came up, it seemed an obvious choice to continue my career at the Royal Emeraude.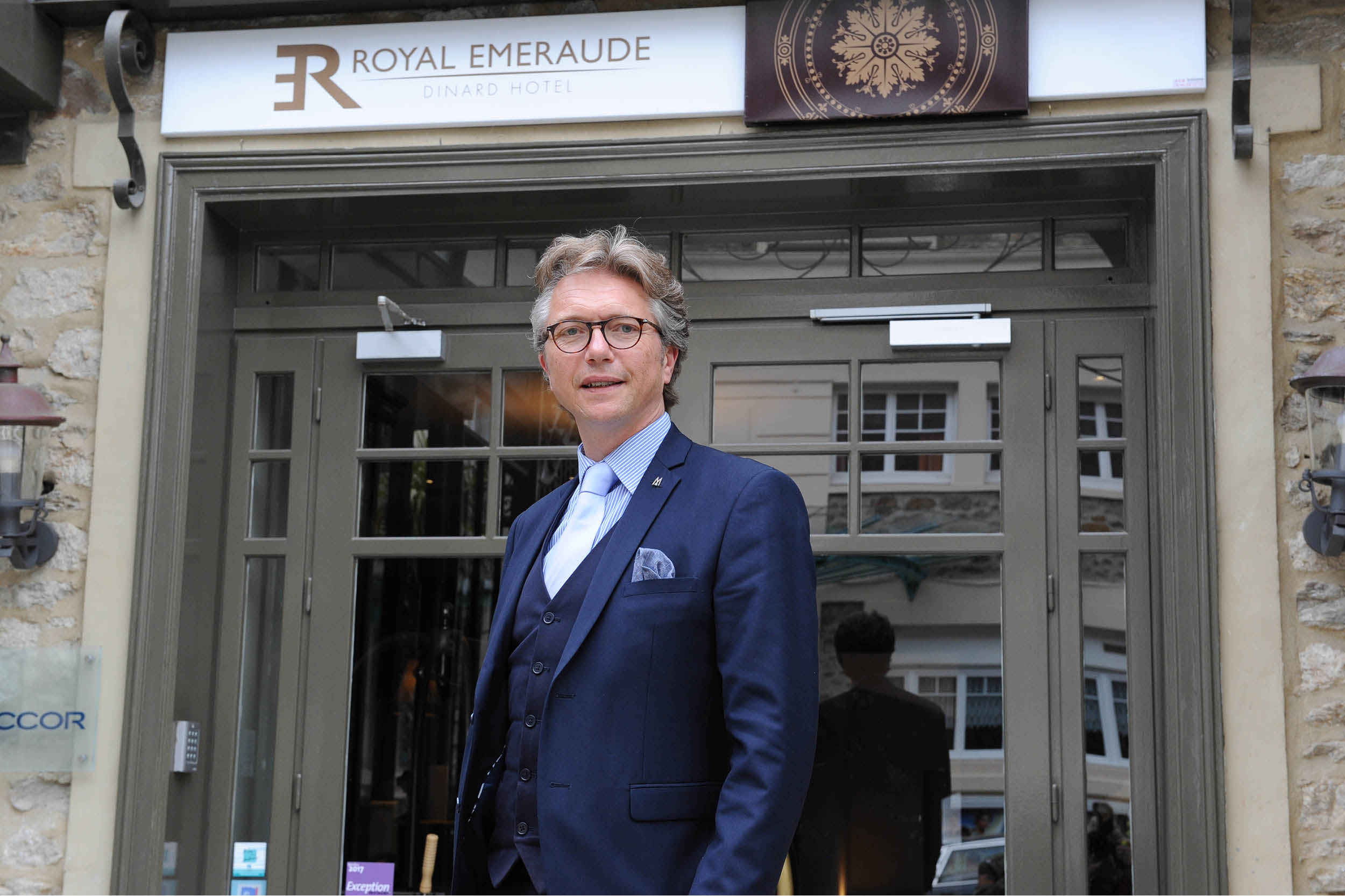 What made you choose this career?
I chose this career to give myself a new challenge at 48 years old, but especially for the human interaction, the desire to deliver a high-end/luxury service, provide a clear vision and to have everyday decisions to make on the ground. It's a positive virus that you catch!
It's a high-pressure job. How do you evacuate that?
I use humour a lot to let off steam! 'Take your job seriously but not yourself', that's a motto that suits me well.
What is so unique about your hotel?
To start with, I really like the M Gallery brand. It's a brand which allows a lot of possibilities, like having a unique atmosphere for each hotel. This building has been associated with the hotel industry since 1890. Originally, it was an annex of a luxury hotel which overlooked the beach. It was the former owner Joël Moreau who bought this part to create the Royal Emeraude Hotel. It was also he who was responsible for the style of the hotel. The hotel is centrally located in Dinard and is timeless, with a true aura of travel. Each floor has its own travel-themed décor.  The hotel also has a magnificent conservatory where you can come and make the most of the view and the location, while enjoying a drink from the bar.
The D-Vine allows us to offer a very wide and attractive selection that provides unbeatable value for money.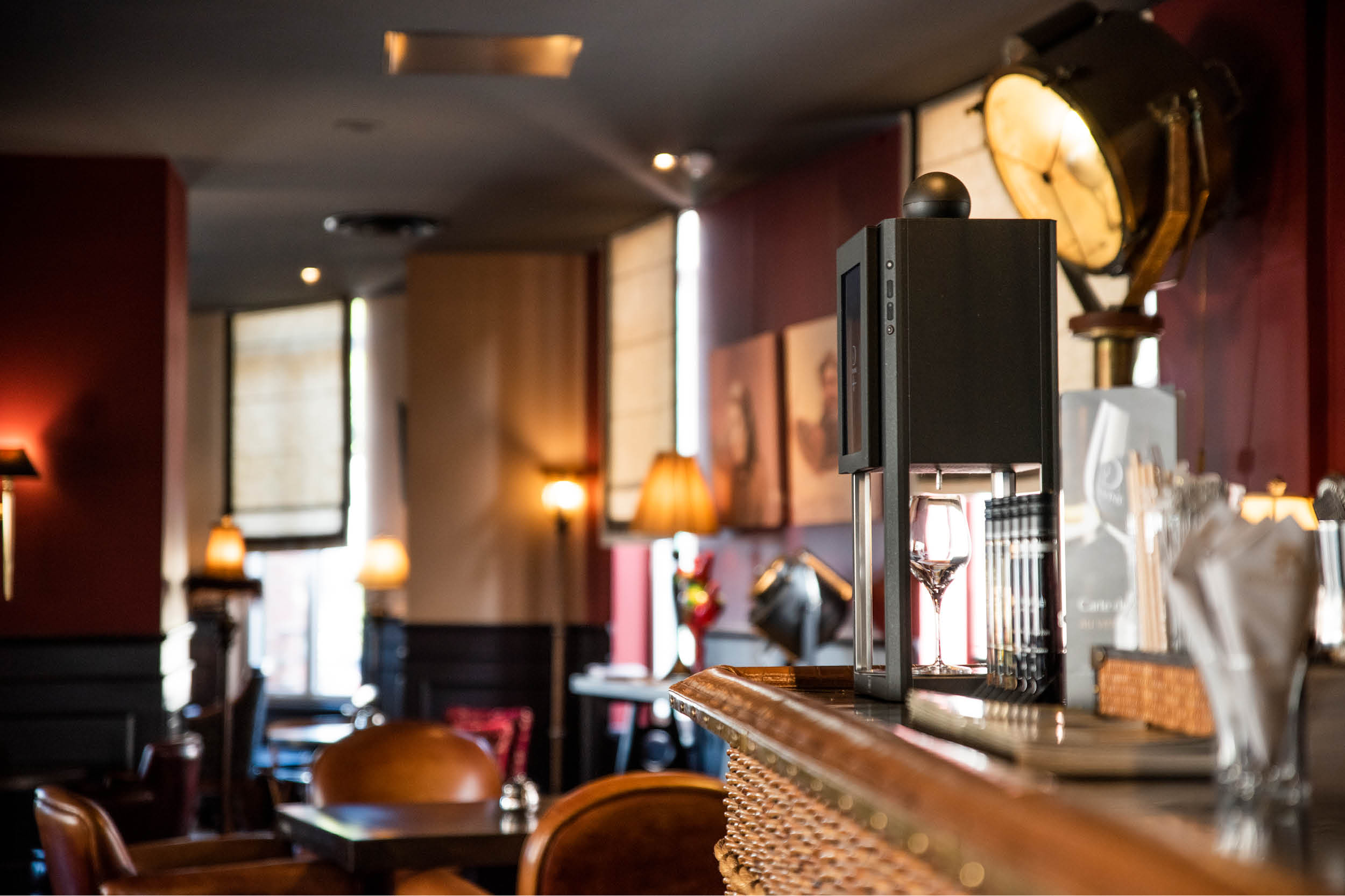 Why did you decide to have the D-Vine at the Royal Emeraude?
We are a hotel with no restaurant. We have simply a bar where people can sit and enjoy refreshments. So it was difficult to offer wine by the glass (limited wine list, high wastage, complicated to manage inventory etc.).  The D-Vine allows us to offer a very wide and attractive selection that provides unbeatable value for money.  It guarantees our clientèle quality wine served in the best possible conditions. Plus, we no longer have wastage and managing inventory is easier. Finally, thanks to the training and content that comes with the device, the D-Vine is fun to use.
We have even been able to start hosting Jazz evenings which are a real success. They are a sell out every time. The public loves this type of event, especially when I get up on stage to sing with the group (I had a jazz group in the past). It is also the perfect moment to promote the D-Vine and win the loyalty of these guests who are attracted to try this kind of offer. They are generally people who regularly drink wine.
Which wine resembles you most?
I must admit that I'm not a great wine connoisseur, but if I had to choose a wine, I would select a Chablis Premier Cru Montée de Tonnerre from the D-Vine selection. It's a wine that is elegant, delicious and full of freshness at the same time.
How do see the re-opening? Have you planned to adapt your offering?
We are inevitably going to adapt the offering. We do not yet know what the situation will be upon re-opening or when this will be, so it is difficult to give you the outline. However, it will probably involve room service, to offer additional services and keep interactions to a minimum. The D-Vine will be a major asset for re-opening!