In this new article, we head to California to explore the superb wine region of Sonoma County and its sub-region Sonoma Valley. Located in northern California to the west of Napa Valley, Sonoma County borders the Pacific Ocean. Two parallel mountain chains run through it, within which nestles Sonoma Valley. Vineyards cover 24,000 hectares (60,000 acres) of Sonoma County, where the landscape alternates between forest and coastal plains, with a great diversity of altitudes and soils.
The French view of foreign wines
French people are actually quite unfamiliar with foreign wines. It is true that they mostly drink French wines. The idea that new world wines are inferior to French wines tends to dominate French opinion. And there couldn't be more "foreign" than American wine.
US wine is perceived to be a technological wine, made using ultra-modern or even scientific winemaking methods. The notion of terroir doesn't exist in this winemaking approach driven by technology rather than nature.
However, Sonoma is in fact the absolute opposite of this very stereotypical idea. It is a stunning region that is really worth exploring and where some of the vines date from 1812!
Napa & Sonoma: Two internationally renowned wine regions
Napa County and Sonoma County are two winegrowing regions situated in the heart of California, an hour north of San Francisco.
Napa Valley is home to some of the most prestigious and majestic vineyards. Its name is derived from the language of native people and is thought to mean "motherland" or "home". Nearby Napa Valley lies Sonoma Valley which is a little less commercialised than its neighbour. Its name means Valley of the Moon.
Within Sonoma County, you find Sonoma Mountain, a small mountain ridge with many undulating hills. This range of geography gives Sonoma County great diversity in terms of the grape varieties that can be grown and different types of terroir thanks to variations in altitude, geology and microclimate.
Although the wine region of Sonoma County is lesser known than its neighbour Napa, it has great potential thanks to the climate range of its differently oriented vineyards, its humidity and the inflow of cool air from the Pacific Ocean.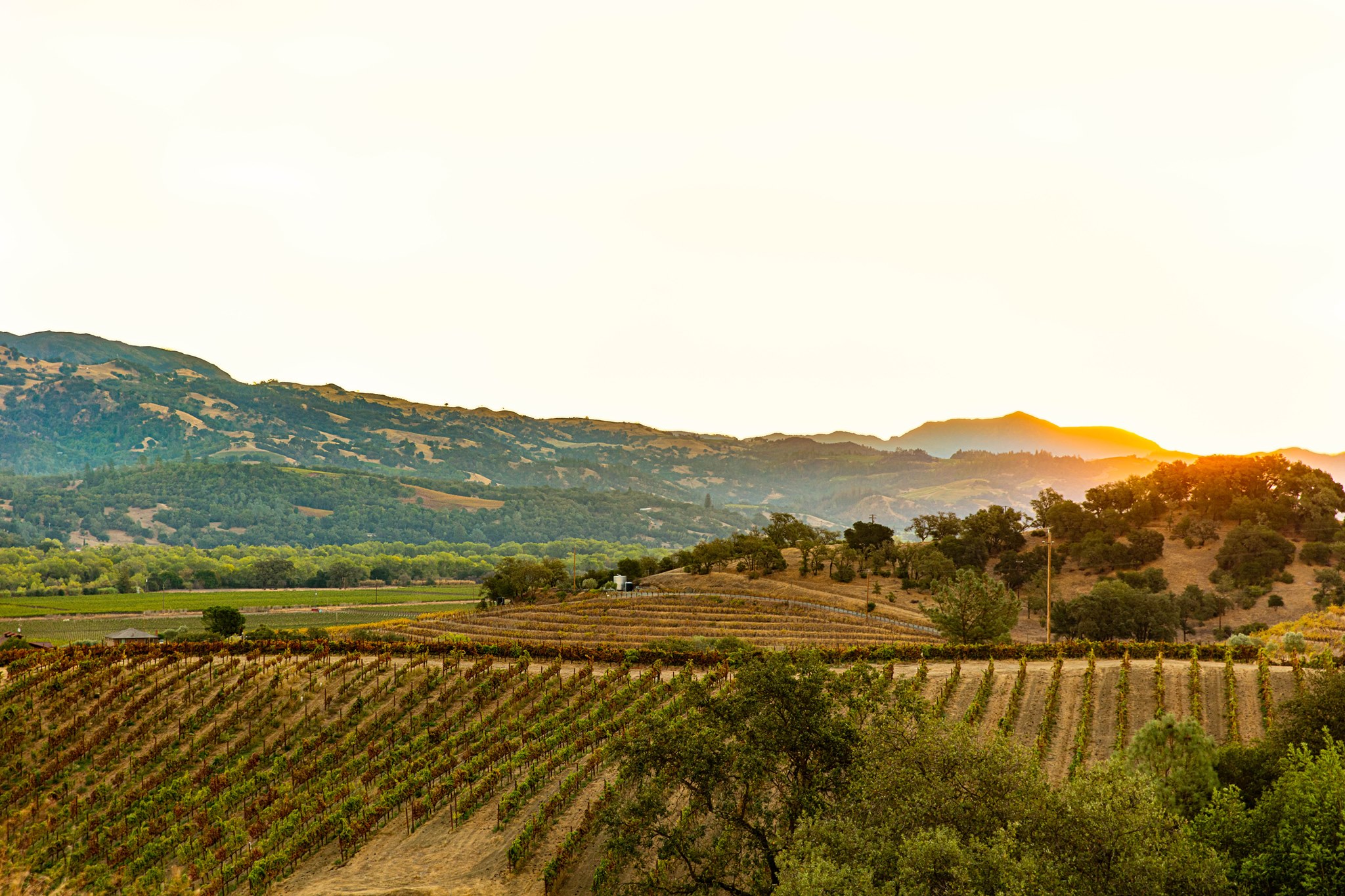 A wine region with diverse soils and a multitude of terroirs
A climate with multiple influences
Sonoma Valley has a very interesting terroir, influenced by the humidity brought by the fog from San Francisco Bay and San Pablo Bay. Without this humidity and cooling effect, this wine region would have a rather hot climate. Very cool nights are thus counterbalanced by rather warm days in Sonoma and the humidity helps to the grapes to ripen more slowly. As a result, the wines are more balanced than those of some other US regions. For example, if you go south of San Francisco into the Central Valley or towards Santa Barbara, the climate becomes very hot.
So Sonoma County has a more temperate, cooler climate which brings greater balance to the wines, with better acidity, and freshness in the finish. This balance is the anti-thesis of what many expect from new world wines. These are real terroir wines, thanks particularly to this notion of microclimates. Sonoma's wines are about freshness and balance.
A great variety of wines
Within Sonoma Country, there are 18 AVAs (American Viticultural Areas), which are the equivalent of France's AOCs/AOPs.
Sonoma Coast and Russian River produce great Pinot Noir and Chardonnay in an intense and fresh style.
Dry Creek produces some of the finest wines from the Zinfandel variety.
The other AVAs are Bennett Valley, Alexander Valley, Chalk Hill, Dry Creek Valley, Fort Ross-Seaview, Fountaingrove District, Green Valley of Russian River Valley, Knights Valley, Los Carneros, Moon Mountain District Sonoma County, Northern Sonoma, Petaluma Gap, Pine Mountain-Cloverdale Peak, Rockpile, and last but not least Sonoma Valley.
Zinfandel or "Zin" for short: a typically Californian variety
Zinfandel is recognised as one of the typically Amercian varieties, even though it actually originates from Italy. Well-known in southern Italy and particularly in the Puglia region where it goes by the name Primitivo, Zinfandel was imported to the United States by Italian settlers.
Some 10% of California's vineyards are planted with Zinfandel and it has come to be considered as a local or even virtually native grape, even though it is not. This typically American variety is made into White Zinfandel or Blanc de Noir, which are rosé wines, and both light and powerful styles of red.
The Zinfandel grape is quite thick skinned and deeply pigmented which, after extraction and fermentation, produces wines with very interesting structure and quite an intense colour.
In the United States, many international grape varieties can be found. For many years, Californian wines meant Chardonnay and Cabernet Sauvignon for most. Twenty years or so ago, Pinot Noir began to emerge from the region. Pinot Noir was initially grown in some of France's more northerly winegrowing areas. It was therefore necessary, in California, to find the right climate and vineyards with the right orientations to produce good Pinot Noir.
To learn more
Want to learn more about American vineyards? Let's go to the South, let's discover Argentina! Read article