The Margaux appellation joined the D-Vine range recently, giving us the opportunity to (re)discover the left bank of the Bordeaux region and its 3 famous wine-producing areas: Médoc, Graves and Sauternes. But before we speak about the wines, we should take a little trip through time…
The Grand Cru Classé classification of 1855
The Paris World Fair was underway and the best farm produce and industrial items were on display as requested by Napoleon III. The Bordeaux wine merchants were called upon to draw up a hierarchy of classified red wines as well as the best sweet white wines. All of the selected red wines came from the left bank, the Médoc region to be more precise, except for the Château Haut-Brion which was produced in the Graves vineyard. Ever since, that classification has remained in place, giving these vineyards a rather emblematic stature, despite all the criticism.
In the heart of the Left Bank…
With its ideal, temperate climate, the left bank benefits from an exceptional terroir. Particularly well suited to the production of high-quality grapes, the soils are made up, geologically speaking, of sand, gravel, clay, limestone and silt. This terroir is shared by 3 great winegrowing areas and 14 famous AOCs.
Médoc
Probably the most emblematic of the entire Bordeaux region, the Médoc vineyard comprises 8 appellations: Médoc, Saint-Estèphe, Pauillac, Saint-Julien, Listrac-Médoc, Moulis, Margaux and Haut-Médoc.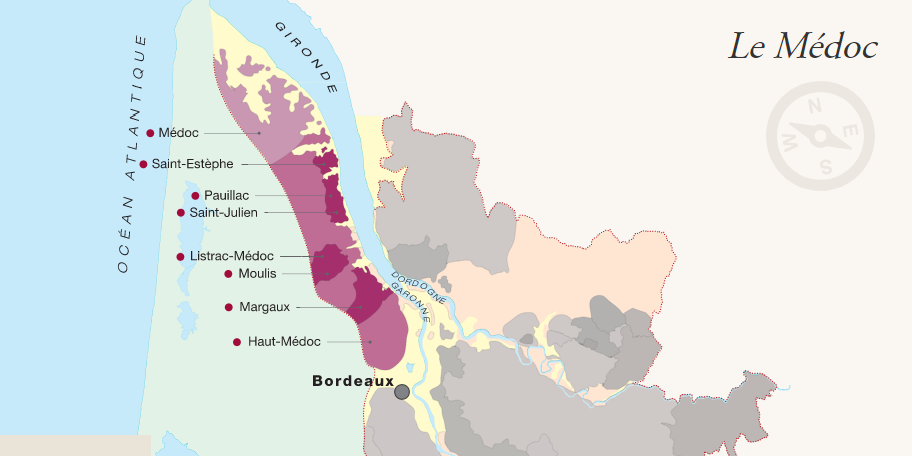 Cabernet Sauvignon is this region's dominant grape variety. It produces wines with a garnet-red colour, well-expressed tannins, a nice long-lasting mouth, and fully-developed aromas of blackcurrant and blackberry, or tobacco.
Graves and Sauternes
The Graves vineyard owes its name to the specificity of its soil. Composed of fine gravel from the River Garonne, it retains heat around the vine stocks. The Graves area is split into 3 appellations: Pessac-Leognan, Graves and Graves Supérieur.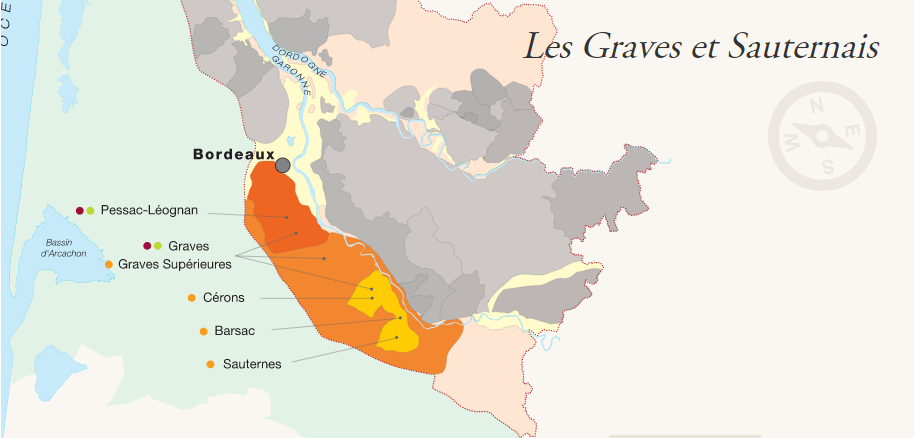 The Graves vineyard is dominated by Merlot grapes which we recognise from the notes of red-fruit jam (cherry and strawberry), liquorice, spice and undergrowth. Merlot produces tannins that are soft in the mouth and there is generally a degree of bitterness.
Last but not least, the third vineyard of the left bank is the Sauternes region where the appellations Sauternes and Barsac thrive alongside their neighbouring appellation, Cérons. The foggy mornings of Sauternes are conducive to the development of a fungus, Botrytis, which causes the Semillon grapes to dry up and turn to candied fruit in the sun. This is what gives the sweet white wines of Sauternes their unique typicality.
---
To find out more