Swiss wines and the country's many grape varieties are a real source of national pride. Over 200 varieties are found in Switzerland, including some very old and native grapes. And yet Swiss wines are little known worldwide, with only 1% to 2% sold abroad. In this article, we take a close up look at France's wine-producing neighbour Switzerland.
What are the main Swiss winegrowing regions?
Switzerland has six main wine regions which are all represented by various AOPs.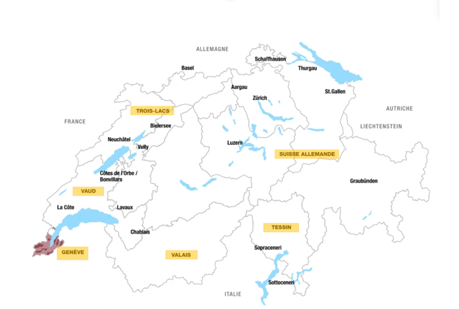 Valais
Let's first look at the canton of Valais in the south of Switzerland. The Alps form a barrier protecting this region, giving it the driest climate of all Swiss wine regions. The vineyards of Valais account for nearly a third of all Swiss wine production. Dry, sunny conditions and a wide variety of soils enable it to produce unique and original wines.
Vaud
Now for a little detour via the canton of Vaud which reaches high up the hillsides of Lake Geneva. This canton has six sub-regions and is home to eight AOCs, including the canton's most famous vineyard area – the Grand Cru of Dézaley. A quarter of all Swiss wine comes from Vaud. Recognised for the richness and diversity of its wines, the canton is known for white wines made from Chasselas and red wines made from Pinot Noir and Gamay. It is also here that the famous Fête des Vignerons (Winegrowers' Festival) is held.
Eastern Switzerland
This region is home to the 17 winegrowing cantons of German-speaking Switzerland, which can be divided into three sub-regions: the western part with Basel and Aargau, the central part with Zurich and the eastern part with the cantons of the Grisons (or Graubünden) and St. Gallen. Black grapes are most common here and over a quarter of the area is planted with Pinot Noir.
Geneva
The city of Geneva is famous for its winegrowers and chefs. In terms of area of vineyards, Geneva is Switzerland's third largest wine region. It is also renowned for its wide variety of grapes, although Chardonnay remains its best known.
Ticino
Let's now return to southern Switzerland, and to the region of Ticino. This region has a mild, sunny Mediterranean climate and produces wines of great quality. The Monte Ceneri mountain divides Ticino into two regions: the Sopraceneri and the Sottoceneri. A large majority of Ticino's wines come from the Merlot grape.
The Three Lakes
We end our tour of Switzerland with the famous Three Lakes region whose vineyards lie mainly along the shores of Lake Neuchâtel. The most commonly planted black grape here is Pinot Noir from which the famous Œil-de-Perdrix is produced.
How does the Swiss classification system work?
The Swiss classification system is similar to the French one. Wines with protected designation of origin (PDO, or AOP in French) remain the benchmark standard. There is also a system of Grands Crus. For memory, Europe's PDO system was a French initiative, and although Switzerland is not part of the EU, it has adopted a similar system. It classifies all wines according to their region of origin, viticultural history and techniques, with the aim of giving products a sense of place. There are 63 Swiss AOPs spread across the 26 administrative cantons. With a consumption of 200 million litres per year on average, Switzerland is the world's fourth biggest wine drinking nation in terms of per capita consumption.
What are the main Swiss grape varieties?
One of the riches of Swiss winegrowing is the country's great many grape varieties. Switzerland has over 200 varieties, some 40 of which are native to the country. As well as the iconic Chasselas, Chardonnay and Pinot Noir grapes, Switzerland's broad array of wines includes ones made from Müller-Thurgau, Completer and Gamaret.
New D-Vine wine listings: Iconique Traminer and La Côte Grand Cru Féchy
Traminer or Heida in Swiss
We couldn't end this article without mentioning "Iconique Traminer", a single-varietal Traminer which is now on the D-Vine wine list. Geneva is famous for this flavourful variety which grows in three of its different winegrowing areas: Mandement, Satigny and Peissy.
This wine produced by the domaine Novelle makes the ideal pairing for spicy dishes such as lamb curry, risotto with saffron, spring rolls, samosas or fish tagine.
AOC La Côte Grand Cru Féchy
This wine made from the Chasselas variety is an intense wine that blends white flower notes and fruitiness to perfection. The regions of La Côte, Lavaux and Chablais in the canton of Vaud make some of Switzerland's finest Chasselas wines. Soft and intense at the same time, this wine produced by the domaine de Mont le Vieux is sure to delight.
Learn more
Want to learn more about the wines of the world and different winegrowing regions around the globe? Read our article on world wines by our chief wine advisor Béatrice Dominé and French Master Sommelier Laurent Derhé. Read the article.