The region of Burgundy, in north-eastern France, is 250 kilometres long from north to south and has 25,000 hectares (62k acres) of vineyards. Although nearly five times smaller than Bordeaux, Burgundy is home to great diversity with its 84 different AOC or appellations d'origine contrôlées. This unique and complex wine region is also one of the oldest in France
4 Main Geographical Areas
Viticulturally speaking, Burgundy can be divided into four different areas.
In the North, towards Yonne, you find the Chablis, Auxerrois and Tonnerrois wine regions.
In the centre of the region, you have the Côte d'Or with its two sub-regions, the Côte de Nuit and Côte de Beaune. This area is renowned for delicate, cherry-coloured reds and white wines such as Corton-Charlemagne and Montrachet.
Further south is the Côte Chalonnaise with its fruity red wines and silvery coloured whites.
Last but not least, you have the Mâconnais, which produces mostly dry white wines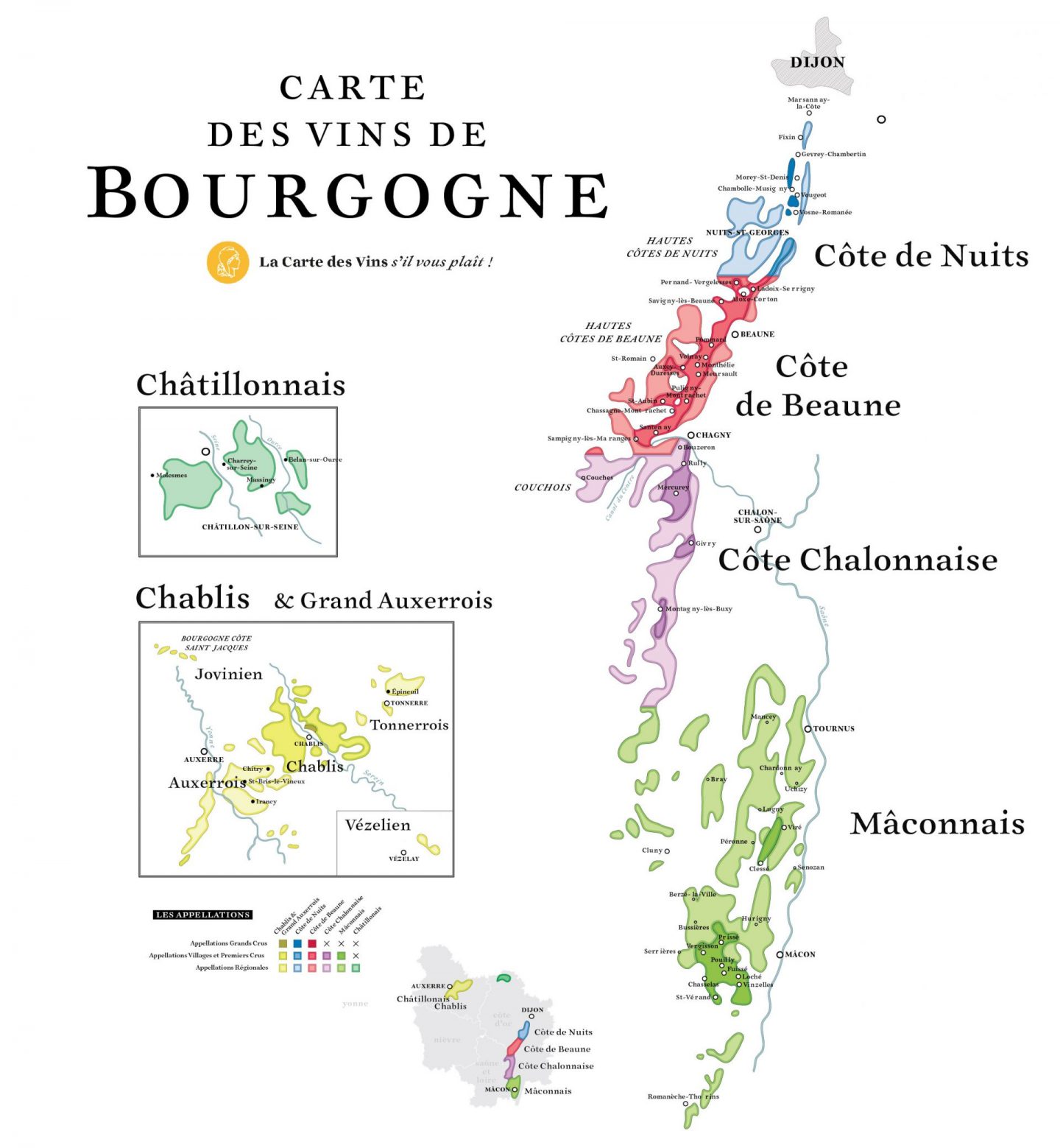 Grape Varieties
Burgundy's particularity is that its wines are almost exclusively single varietal wines.
Chardonnay
The Chardonnay grape, which is used to make white Burgundy, is a variety which brings hazelnut, almond and white flower aromas to the wines. Despite being rather sensitive to springtime frost, it is an easy grape to grow as it adapts well to a wide range of soils.
Pinot Noir
Pinot Noir, which is used for red Burgundy, gives ruby-coloured wines with rather supple tannins. It is a very early grape, making it trickier to grow than Chardonnay.
Appellation Hierarchy: A Pyramid System
The Burgundy wine region has a four-tier hierarchy:
Regional appellations
These include a wide variety of wines in white, red or rosé, including appellations such as AOC Burgundy, AOC Bourgogne Aligoté and AOC Crémant de Bourgogne. These wines are at the base of the pyramid.
Commune Appellations
These wines are named after their commune (or village) of origin, such as Chablis, Nuits-Saint-Georges, Vosne-Romanée, Meursault or Gevrey-Chambertin.
Premiers Crus
These are wines that come from individual vineyard plots. These plots of vines, also known as climats, have very specific topographical, climatic or geological features. There are as many as 500 of them. Premier Cru wines are on the upper end of the quality scale.
Grands Crus
To be referred to as a Grand Cru, a wine must come from one of the 33 climatsacknowledged as particularly special (Corton Charlemagne, Chambertin, etc). These wines account for just 2% of Burgundy's production.