Situated to the south of Burgundy is the much-loved French wine region of Beaujolais, the land of Gamay.Beaujolais has a continental climate which produces naturally fresh and fruity wines that are nicely tangy in taste. The region's main grape, Gamay, thrives in this climate. This black grape tends to offer relatively soft wines with gentle tannins and nice freshness in the finish.
History of Beaujolais
Originally an area planted with vines by the Romans, then maintained from the 7th century by the Church, Beaujolais came under the control of the lords of Beaujeu in 957 AD (hence the wine's name). Beaujolais took off in the 17th?? century thanks, first, to the elimination of the main taxes on the delivery of Beaujolais, and the development of the Briare canal thatfacilitated the shipping of wine via the Loire. Beaujolais wines thus arrived in Paris and quickly became a great success. Following this, the wine region expanded significantly. It was not until 1930 that Beaujolais was administratively attached to the Burgundy wine region.
Beaujolais' different wines
Contrary to popular misconception, the region is not only home to Beaujolais Nouveau! It in fact produces white, rosé and red wines, including some excellent appellations such as Moulin-à-vent, Brouilly, Juliénas and Morgon.
The white wines are made from Chardonnay and are typically zippy and dry with noticeable tension.
The reds from the more southerly vineyards grow on sandy soils and the resulting wines are on the softer side of the scale. This is where AOC Beaujolais and AOC Beaujolais-Villages are made. The wines of these appellations tend to be fruity, supple and delicate.
The reds from the northern part of the region grow on soils with more granite and as a result have more body. It is in this part of the region that you find the ten Beaujolais crus. These ten crus are wines with greater complexity, a broader range of aromas and longer ageing potential.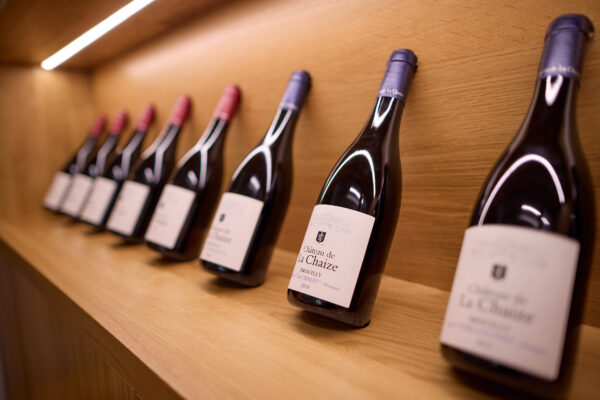 Excellent diversity and good ability to age
With all of these premium appellations, Beaujolais offers excellent diversity. For example, you might enjoy a supple and elegant Saint Amour or a more powerful and complex wine such as a Morgan.
It is also interesting to note that Beaujolais can age very well. The well-balanced combination of acidity and good tannic structure that you find in crus such as Morgon, Côte de Brouilly or Moulin-à-vent gives these wines great ability to age. Extended ageing of 10 to 15 years can in fact reveal some very nice surprises with Beaujolais.
To learn more :
Now that you are an expert on Beaujolais, continue your journey north and discover one of France's oldest wine regions – Burgundy.