Measuring only 200 kilometres wide, Chile is a narrow country which was already home to wild vines in Pre-Columbian times. Chile is over 4,200 kilometres long or four times the length of France, offering it an extremely wide variety of winegrowing conditions. In this article, we invite you to discover all the key features of Chile's wine regions as well some of the country's main wines… Vamos?
Origins of Chile's vineyards
As in many cases, vineyards developed in Chile as a result of colonisation. More specifically, it was Spanish colonists, the Jesuits and the Franciscans that introduced vines in the country from the 16th century. The first Chilean wine is said to have been made by the monk Don Francisco de Aguirre in 1551.
The production of wine and the cultivation of vines became very prosperous, however it is Silvestre Ochagavia, whom you may already have heard of, who is considered the "father" of modern Chilean winegrowing. He imported numerous European vine stocks, including Cabernet, Pinot, Merlot and Riesling, into Chile from about 1851.
One important fact to know is that Chile is one of the rare winegrowing regions in the world to have not been affected by Phylloxera. Its vine stocks are therefore ungrafted, which is a real bonus in terms of quality.
It was only from the 1980s that international producers began revealing the potential of Chilean wines. Nowadays, Chile produces extremely high quality wines which are exported all over the world.
Chilean winegrowing
Most of Chile's vineyards can be found in central Chile from the Elqui Valley to the San Antonio Valley. In more precise terms, its vineyards are situated between the latitudes of 27 and 39 degrees south. In total, they represent nearly 200,000 hectares, producing around 9 million hectolitres of wine a year. By means of comparison, that is around five times less than France. These 200,000 hectares of vines also include table grapes, the main type of grapes grown in Chile.
Wine regions
There are ten main grape-growing regions in Chile, however only three of these produce wine.
The other seven grow table grapes and wine destined for distillation for the production of Pisco, a grape brandy which has had protected designation of origin status since 1931. The three wine-producing regions encircle Santiago.
They are Aconcagua, the Central Valley region and the Southern Region.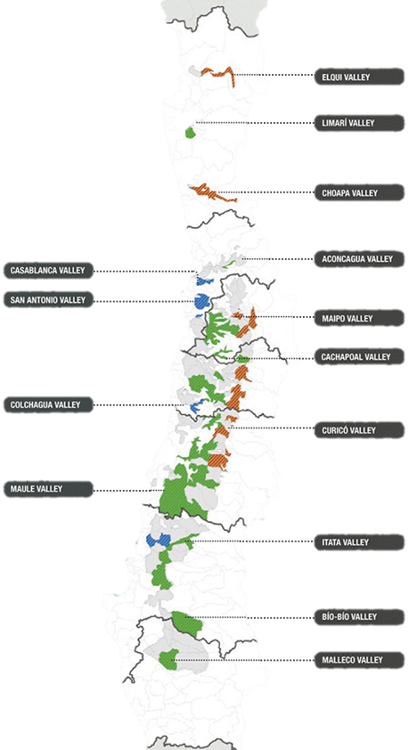 ACONCAGUA
The Aconcagua Valley has temperate and hot climates, with clay and alluvial soils. The Casablanca Valley is one of Aconcagua's sub-regions. It produces white wines with excellent potential. It is an outstanding region for Chardonnay and Sauvignon Blanc.
CENTRAL VALLEY
In this region, we find the superb Maipo Valley which starts just south of the city of Santiago and includes the town of Pirque. Maipo Valley is the birthplace of Chilean winegrowing. The temperature is around 25°C in summer and 14°C on average all year round, with a warm and dry Mediterranean-type climate.
Further south, you come to the Rapel Valley which is where the Cacapoal and Colchagua Valleys are found. Here the vines are perched at an altitude of 600 to 1000 metres above sea level. The climate in this part of Chile is also mild, but with an oceanic influence. The Curico Valley also belongs to this region. Situated 200 kilometres south of Santiago, it has mostly clay soils and a large diurnal range (difference between day-time and night-time temperature). Finally, you have the Maule Valley, which lies halfway between Chile's coastal mountain range and the Andes. The climate here is cooler than in the north with higher rainfall in winter.
SOUTHERN REGION
The Southern Region or Region del Sur is one of Chile's most complex when it comes to growing vines. This is because the climate is cooler and wetter than in the other regions. One of its sub-regions is the Itata Valley which is known as a major producer of table wine. Some excellent wines are, however, also produced from Cabernet, Merlot and Syrah. Bio Bio Valley, even further south, is mainly a producer of table wines. The wines made here tend to have high acidity. Geologically, the soils are composed of red limestone and sand.
Although Cabernet Sauvignon is the king of Chile's vineyards, many other internationally renowned varieties are also found, such as Merlot, Syrah (known as Shiraz), and Pinot Noir for red wines, and Chardonnay and Viognier for whites.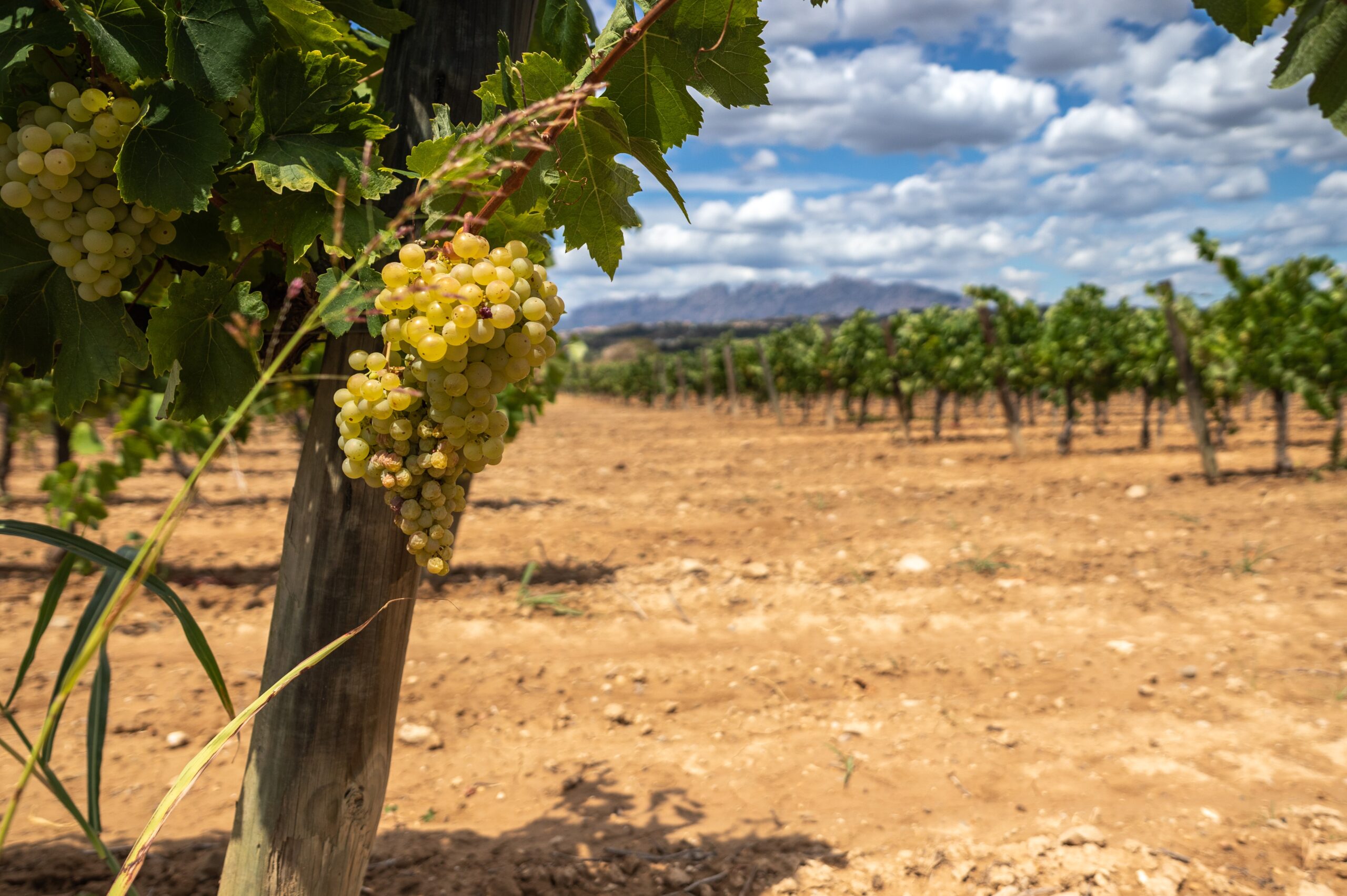 Locally, though, the star grape is Carménère. Chilean Carménère is increasingly popular and more premium wines are now being made with it. It gives wines with black fruit notes and spices, complexity and powerful fine tannins.
Discover three Chilean wines from the Colchagua Valley on the dVine wine list:
Reserva Carménère from the Viu Manent winery produced from the Carménère grape,
Coyam from Emiliana, a blend of Syrah, Carménère and Cabernet Sauvignon,
Ecobalance from Emiliana, a white wine made exclusively from Chardonnay.
Learn more
In this new article, we take you to the West of the USA to discover California's Sonoma County region as well as the sub-regions in the extraordinary Sonoma Valley. Click here to keep learning: Read the article