Spirits are now officially on the dVine menu, offering our hotel and restaurant clients a complement to their wine offering. The new dVine spirits, which come in the same flacon format as the wines although this time in a 5 cl measure, promise a perfect tasting experience and are revamping the image of spirits among consumers.
Discover our exclusively French selection today, featuring whisky, cognac and gin, as well as our Guatemalan rum.
A selection made by dVine's chief wine adviser Béatrice Dominé and Master Sommelier Laurent Derhé: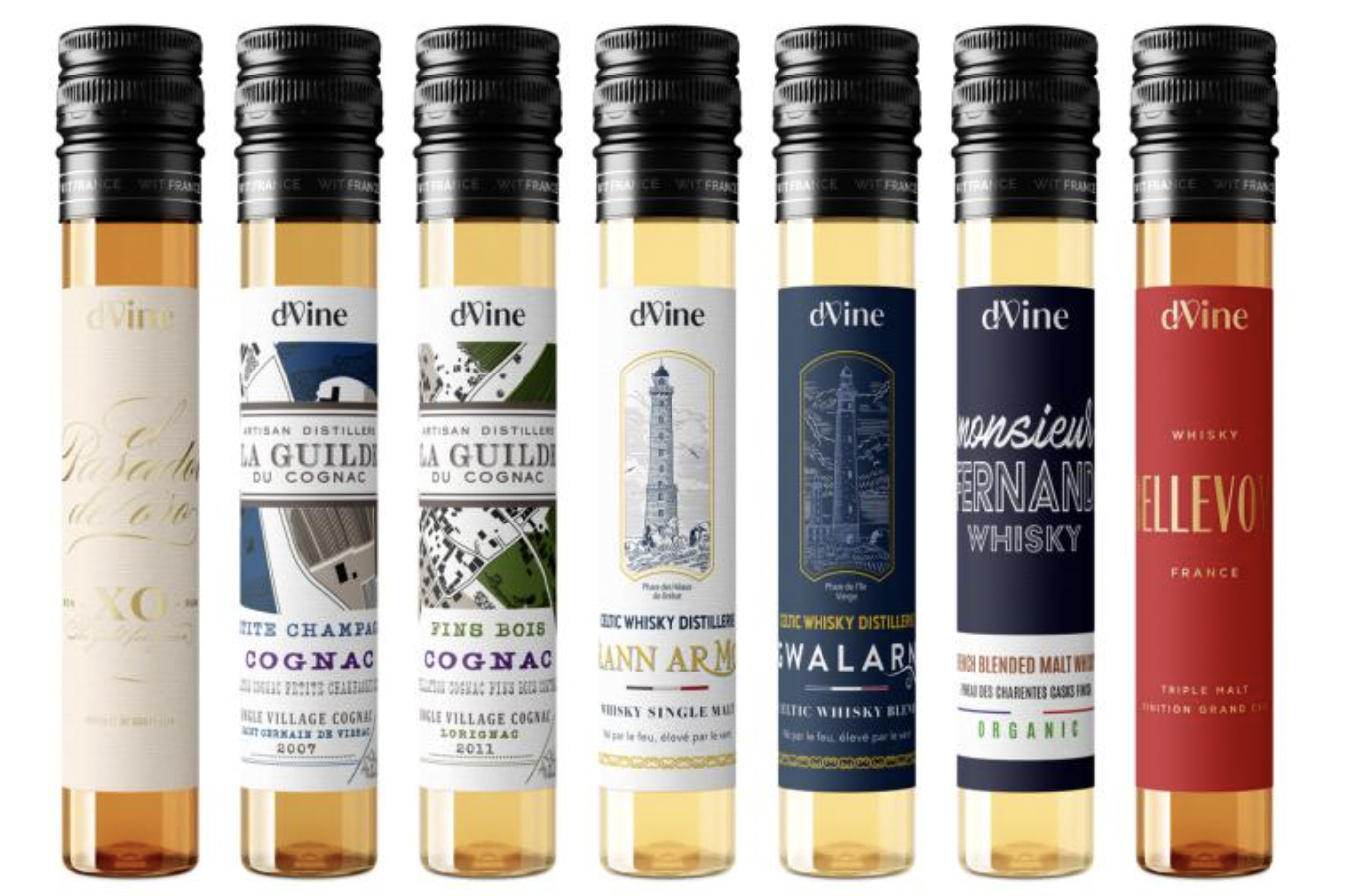 LES BIENHEUREUX
Bellevoye Rouge Whisky, finished in Grand Cru casks
El Pasador de Oro Rum – XO (made in Guatemala and aged in France)
MAISON VILLEVERT
La Guilde du Cognac – Cognac Fins Bois – Lorignac 2011
La Guilde du Cognac – Cognac Petite Champagne – Saint Germain de Vibrac 2007
Celtic Whisky Distillerie – Gwalarn Celtic Whisky Blend
Celtic Whisky Distillerie – Glann Ar Mor – Single Malt Whisky
ARS SPIRITS
DISTILLERIE DU VIADUC
That makes eight spirits on the menu already, and our in-house oenologist Béatrice has plans to scout France to expand this great selection, so there will be more surprises to come.
Impressive blind test results:
Our experts tested the effects of the dVine system on spirits in a blind tasting and the verdict was unanimous: the aeration and temperature enhance the aromatics of the spirits and lessen the sensation of alcohol.
dVine Spirits, a way to generate additional margin and customer satisfaction
During a pre-launch trial at Georges Blanc's restaurant, the Ancienne Auberge, the dVine spirits offering proved a great success with consumers and teams. Sales grew from two to ten flacons a week, representing the equivalent of an additional €400 in sales a month.
Consumers were impressed by the experience and even mentioned it on customer review websites, which was excellent recognition for the establishments concerned and dVine's Customer Success coaches.
dVine's coaches spend time helping the teams at our partner establishments to build their spirits skills. Good product knowledge is key to creating successful pairings and encouraging customers to order.
With an innovative format, fun merchandising and a high-quality selection, the dVine spirits range, including gin, rum, whisky and cognac, is dusting off the image of spirits in restaurants. Serving them at the right temperature and with the proper aeration reveals a broader range of aromas and lessens the sensation of alcohol.
One of the greatest achievements for us would be for women to be tempted by trying these delicious beverages which up to now have been very popular with men. What if it was all a matter of service conditions…?
Learn more
So as we have shown, serving spirits requires just as much attention to detail as with wine. From temperature, to aeration and conservation… In this new article, learn about  The importance of serving spirits right